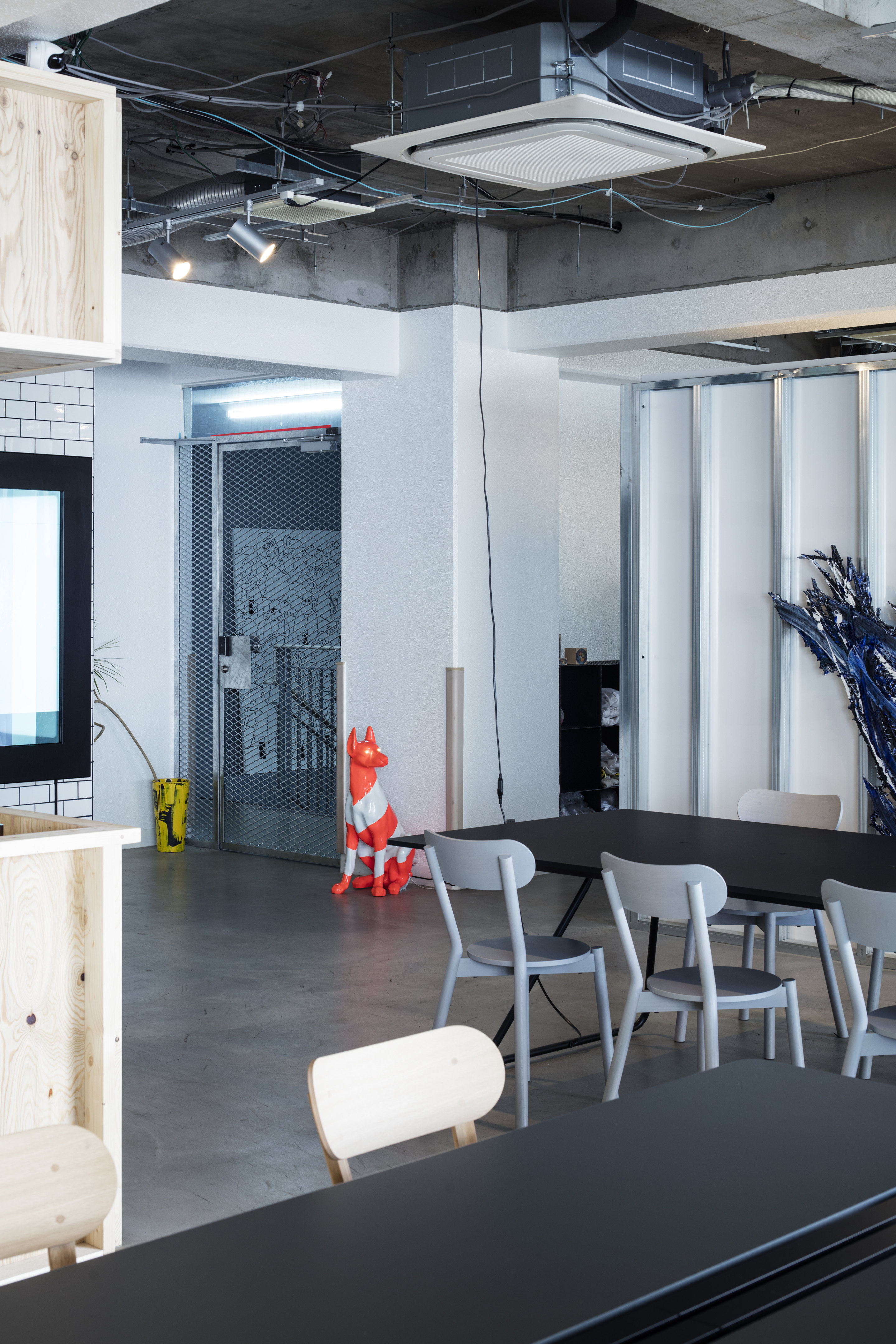 Data
Location

Tokyo, Japan

Team

Hiroi Ariyama, Megumi Matsubara

Completion year

2018

Client

CEKAI

Purpose

Office Interior design

Floor area

560 sqm

Number of storeys

2 (GL & Basement)

Collaborators

CEKAI

Photographers

Kenta Hasegawa

Urls
How can office design be merged with growing occupants' ever-changing likings?
Our answer was, "Codify halfway: Design it, but don't finish it."
The resulting imagined interior, with unfinished walls and half-done spatial divisions, is perfectly complete.
                                                                                                                   – ASSISTANT
CEKAI is a Tokyo-based creative agency. CEKAI moved their office to a new location with a brand-new concept of how to use space: they called their new office MURA-CEKAI (MURA means « village » in Japanese) to share it with freelancers and other offices, who were entitled as 'CEKAI villagers,' and to run it as they may govern a real village.
CEKAI means « world » in Japanese. But the alphabetical spelling of the word purposefully lacks accuracy by one letter « C » as it's commonly spelled SEKAI to read « world ». This rather inexplicable alternation of the word playfully explains CEKAI's style. « CEKAI=world » combined with « MURA=village » represents a community comprising of groups and individuals gathered from different genres and professions to share the self-governed space.
MURA-CEKAI thus is a constantly changing environment whose space is divided, rented out to members of CEKAI then individually modified, as if occupants would purchase lands in a city.
MURA-CEKAI was installed in the basement that originally resembled a parking space.
The interior design was developed through simulations and experiments of spatial rules.
To enable the skeleton of MURA-CEKAI, we designed 'unfinished walls' which push the inhabitants to go beyond walls, beyond their comfort zones.
The floor is drawn with 1m-grid white lines to visualize the primary rule: occupancy of the space is possible from per-square-meter. The « village » is run by self-made laws (which also grow), such as each occupant must allow at least one side of his/her/their space to meet an open space for the public.
'Unfinished walls' resemble walls. Without boards or height or thickness, however, they lack something major to function as walls. Following the 1m-grid lines that define MURA-CEKAI, 'unfinished walls' naturally create discussion and negotiation when occupancy of the grid zones begins: occupants begin to recognize their physical and psychological boundaries to the point where individual modification of the walls takes place. 'Unfinished walls' keep changing their looks and surroundings accordingly, merging or separating occupants.
The ground level is a reception area for guests and clients, offering a variety of meeting space: cafe, lounge, radio station. These are free spaces for inhabiting creators. They enable community settings such as announcements via radio booth's PA systems, or coffee available in a community currency.
The space was designed to register all these processes that expand the world of CEKAI.
In the course of a few weeks, it turned impossible to draw a line between what was planned and what was not.
Images
Photo © Kenta Hasegawa

Photo © Kenta Hasegawa

Photo © Kenta Hasegawa

Photo © Kenta Hasegawa

Photo © Kenta Hasegawa

Photo © Kenta Hasegawa

Photo © Kenta Hasegawa

Photo © Kenta Hasegawa

© ASSISTANT

© ASSISTANT

Photo © ASSISTANT

Photo © ASSISTANT

Photo © ASSISTANT

Photo © ASSISTANT

© ASSISTANT

Photo © ASSISTANT

Photo © ASSISTANT

Photo © ASSISTANT

Photo © Kenta Hasegawa

Photo © Kenta Hasegawa

Photo © Kenta Hasegawa

Photo © Kenta Hasegawa

Photo © Kenta Hasegawa

Photo © Kenta Hasegawa

Photo © Kenta Hasegawa

Photo © Kenta Hasegawa

Photo © Kenta Hasegawa

Photo © Kenta Hasegawa

Photo © Kenta Hasegawa

Photo © Kenta Hasegawa

Photo © Kenta Hasegawa

Photo © Kenta Hasegawa

Photo © Kenta Hasegawa

Photo © Kenta Hasegawa

Photo © Kenta Hasegawa

Photo © Kenta Hasegawa

Photo © Kenta Hasegawa

Photo © Kenta Hasegawa

Photo © Kenta Hasegawa

Photo © Kenta Hasegawa

Photo © Kenta Hasegawa

Photo © Kenta Hasegawa

Photo © Kenta Hasegawa

Photo © Kenta Hasegawa

Photo © Kenta Hasegawa

Photo © Kenta Hasegawa

Photo © Kenta Hasegawa

Photo © Kenta Hasegawa

Photo © Kenta Hasegawa

Photo © Kenta Hasegawa

Photo © Kenta Hasegawa

Photo © Kenta Hasegawa

Photo © Kenta Hasegawa

Photo © Kenta Hasegawa

Photo © Kenta Hasegawa

Photo © Kenta Hasegawa

Photo © Kenta Hasegawa

Photo © Kenta Hasegawa

Photo © Kenta Hasegawa

Photo © Kenta Hasegawa

Photo © Kenta Hasegawa
Linked Projects