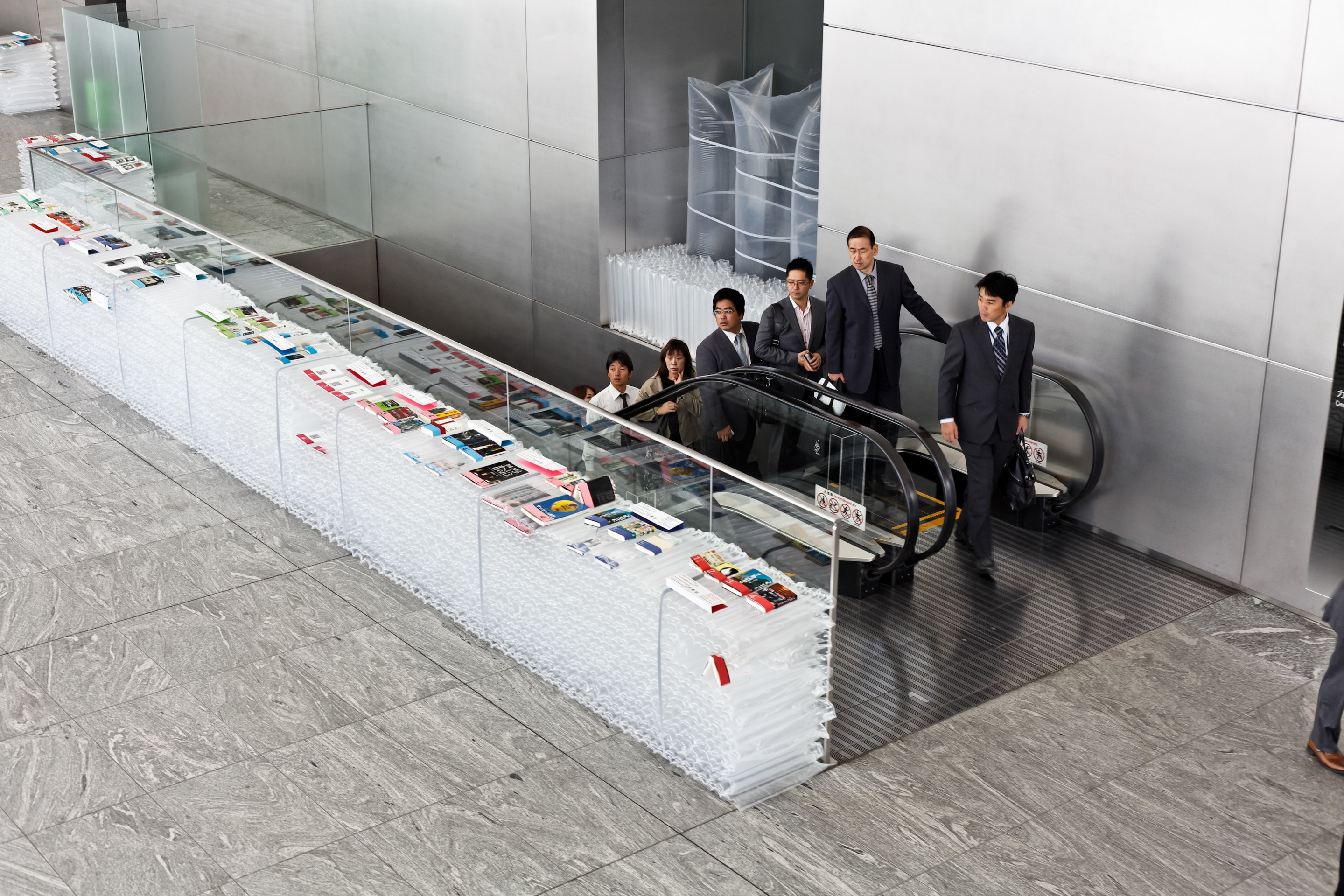 Data
Location

Tokyo, Japan

Team

Megumi Matsubara, Hiroi Ariyama

Completion year

2011

Exhibition period

3 Oct 2011 - (1 month)

Client

Dentsu Inc.

Purpose

temporary installation functioning as a library

Floor area

1400 sqm

Collaborators

Dentsu Entrance Project Team
BACH (Book adviser)

Photographers

Sebastian Mayer
The entrance of the Dentsu's headquarters building (48-floor building designed by Jean Nouvel) is transformed into a library for the period of one month. More than 500 books were brought in by 100 employees working in the building including the guard or the lady at the reception desk displayed.
Dentsu Inc. is the largest advertising agency in Japan that holds 7,000 employees. The project was initiated by the young willing employees who had wished to explore the potential of the solid entrance and to inspire the communication among the workers. They had planned to change the entrance every month for the coming year. For the launching month, they engaged external creative firms; ASSISTANT to design the space, BACH to advise on the book selection to accompany the installation.
We believed that the entire entrance hall should look completely different overnight, without losing the fact the space offers books to read. We designed the library entirely formed by packed air. All the furniture including the seating environments were designed by the transparent plastic packaging materials. The idea came from the temporary nature of the event. The packaging material takes a good care of the treasury books brought in by the workers, all the while making the books stand out in the space with its transparency. The total amount of materials to fill the 1000 sqm lobby can be gathered in almost one square meter before inflating them. After one month, they can be rolled up again, producing a humble amount of garbage. It also brings a sense of wonder and friendliness contrasting the entrance's air of tension and formality.
Images
Photo © Sebastian Mayer

Photo © Sebastian Mayer

Photo © Sebastian Mayer

Photo © Sebastian Mayer

Photo © Sebastian Mayer

Photo © Sebastian Mayer

Photo © Sebastian Mayer

Photo © Sebastian Mayer

Photo © Sebastian Mayer

Photo © Sebastian Mayer

Photo © Sebastian Mayer

Photo © Sebastian Mayer

Photo © Sebastian Mayer

Photo © Sebastian Mayer

Photo © Sebastian Mayer

Photo © Sebastian Mayer

Photo © Sebastian Mayer

Photo © Sebastian Mayer

Photo © Sebastian Mayer

Photo © Sebastian Mayer

Photo © Sebastian Mayer

Photo © Sebastian Mayer

Photo © Sebastian Mayer

Photo © Sebastian Mayer

Photo © Sebastian Mayer

Photo © Sebastian Mayer

Photo © Sebastian Mayer

Photo © Sebastian Mayer

Photo © Sebastian Mayer

Photo © Sebastian Mayer

Photo © Sebastian Mayer

Photo © Sebastian Mayer

Photo © Sebastian Mayer

Photo © Sebastian Mayer

Photo © Sebastian Mayer

Photo © Sebastian Mayer

Photo © Sebastian Mayer

Photo © Sebastian Mayer

Photo © Sebastian Mayer

Photo © Sebastian Mayer

Photo © Sebastian Mayer

Photo © Sebastian Mayer

Photo © Sebastian Mayer

Photo © Sebastian Mayer

Photo © Sebastian Mayer

Photo © Sebastian Mayer

Photo © Sebastian Mayer

Photo © Sebastian Mayer

Photo © Sebastian Mayer

Photo © Sebastian Mayer

Photo © Sebastian Mayer

Photo © Sebastian Mayer

Photo © Sebastian Mayer

Photo © Sebastian Mayer

Photo © Sebastian Mayer

Photo © Sebastian Mayer

Photo © Sebastian Mayer

Photo © Sebastian Mayer

Photo © Sebastian Mayer

Photo © Sebastian Mayer

Photo © Sebastian Mayer

Photo © Sebastian Mayer

Photo © Sebastian Mayer

Photo © Sebastian Mayer

Photo © Sebastian Mayer

Photo © Sebastian Mayer

Photo © Sebastian Mayer

Photo © Sebastian Mayer