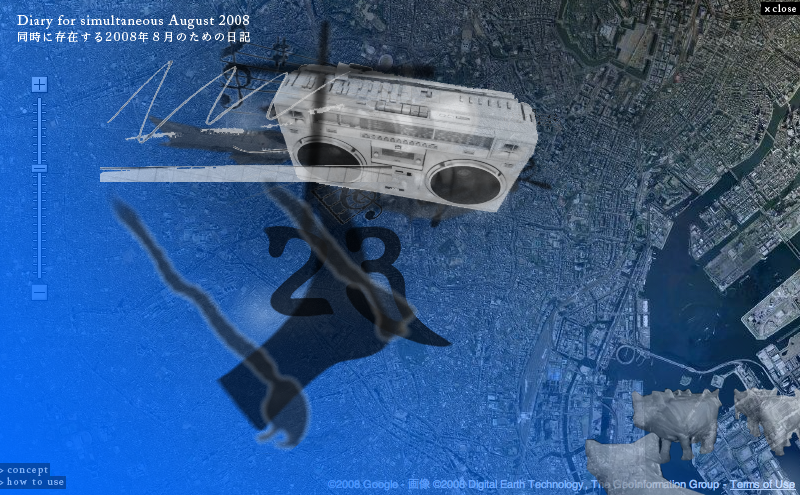 Data
Location

Online

Team

Megumi Matsubara

Completion year

2008

Commissioner

Public/image

Curator

Yuki Harada

Purpose

Online exhibition

Collaborators

Yotaro Kubo (Waseda University)

Notes

Public/image has permanently closed its gallery space online.
Public/image, an online visual art magazine curated an online exhibition. The answer became a web installation, developed as an online diary composed of audio and visual fragments collected from the city. The background system was technically supported by computer science researcher Yotaro Kubo (Waseda University) who enabled fluid combination and interaction between sonic, visual, and geographic information.
"Diary for Simultaneous August 2008"
When will a diary compose music?
When will a conversation roll a film?
Our perceptions gather where? To evaporate where?
Acting as a patient with a memory disorder, I keep asking "Who am I?" (*1)
Interposed between yesterday and tomorrow is everyday. In a diary full of holes, apertures let out; loud whispers, foolish shout.
My self in inverse is my reversed self.
Me in reverse is still myself, indeed.
Any sound is music: an uttered word is a past waiting to appear.
All audible sound – that includes silence (*2) – amplifies its recorded self to be played in the future.
In simultaneous August, a diary of Tokyo's all-at-onceness will be played to be repeated.
My father bought me a CD player, my first one. It had a button «A→B».
I could choose Point A and Point B of a song, between which was played on endless repeat.
«A→B» was my favourite button. In fact, I listened to only «A→B», giving life to all CDs, to which I lost interest already upon owning them.
From A to B and back again.
from A to B And Back Again. (*3)
---
Megumi Matsubara for ABSENT CITY SERIES
*1:Andre Breton, "Nadja", 1928
*2:John Cage, "Silence: Lectures and Writings", 1961
*3:Andy Warhol, "THE Phiilosophy of Andy Warhol", 1975
Images
© ASSISTANT

© ASSISTANT

© ASSISTANT

© ASSISTANT

© ASSISTANT

© ASSISTANT

© ASSISTANT

© ASSISTANT

© ASSISTANT

© ASSISTANT