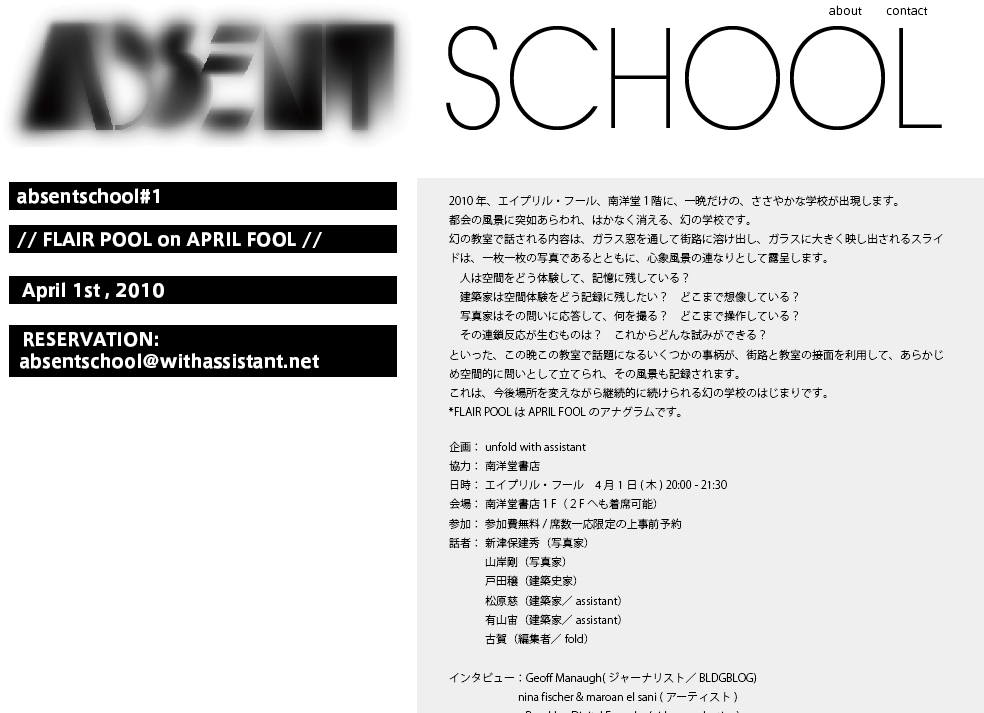 Data
Location

Nanyodo architecture bookstore, Tokyo, Japan

Team

Megumi Matsubara, Hiroi Ariyama, Ayumu Saito

Completion year

2010

Exhibition period

1 Apr 2010

Purpose

Symposium / School

Collaborators

Kenshu Shintsubo, Takeshi Yamagishi, Hideyuki Nakayama, Jo Toda, Toshiaki Koga, Geoff Manaugh, Nina Fischer & Maroan el Sani, Brooklyn Digital Foundry, Yuichiro Tamura, Masashi Kido, unfold, Nanyodo

Photographers

ASSISTANT

Acknowledgement

Urls
ABSENT SCHOOL : visionary school : vol.1
—————————————-
FLAIR POOL on APRIL FOOL
—————————————-
Description of Spatial Experience: Architecture, Photography, Memory
Spring, FLAIR POOL on APRIL FOOL
April Fool, 2010.
A modest school will emerge in the store of Nanyodo architecture bookstore.
The visionary school will abruptly appear in your cityscape and fleetingly disappear.
How do we experience and memorize space?
How do architects document spatial experiences?
What photographers take responding to those questions?
What emerges from those interactions between them?
What can we try?
A myriad of questions our visionary school pick up that evening will radiate towards our cityscape.
Images will be projected through the large glass window facing to the street, overlapping with our mental images.
The activity and its scenery of our school program will be documented and shared.
Following this start of the visionary school, ABSENT SCHOOL plans to remain consistently abrupt continuously.
Date: April fool (1 Apr 2010) 20:00 – 22:00 (door open 19:45)
Venue: Nanyodo architecture bookstore 1F (1-21 Jimbocho Kanda Chiyodaku Tokyo)
Fee: Free / Handouts available by email reservation in advance <absentschool@withassistant.net>
Speakers:
Kenshu Shintsubo (Photographer)
Takeshi Yamagishi (Photographer)
Hideyuki Nakayama (Architect)
Megumi Matsubara (Architect)
Hiroi Ariyama (Architect)
Jo Toda (Architecture historian)
With support of:
Geoff Manaugh (Journalist/BLDGBLOG)
Nina Fischer & Maroan el Sani (Artists)
Yuichiro Tamura (Artist)
Masashi Kido (Editor/Whatever Press)
Toshiaki Koga (Editor/fold/unfold)
Ayumu Saito (Editor/M/M)
Nanyodo
Conceived/Organized by unfold with ASSISTANT
*FLAIR POOL is an anagram of April fool.
—————————————-
FLAIR POOL on APRIL FOOL
—————————————-
空間体験の記述について:建築、写真、記憶
春、FLAIR POOL on APRIL FOOL
2010年、エイプリル・フール。
南洋堂1階に、一晩だけのささやかな学校が出現します。
都会の風景に突如あらわれ、はかなく消える、幻の学校です。
人は空間をどのように体験し、記憶している?
建築家は空間体験をどのように記録に残す?
写真家はその問いに応答して何を撮る?
その連鎖反応が生むものは?
どんな試みができるのか?
この晩、幻の学校で取り上げられるいくつかの問いは、 街路に面する窓ガラスに大きく映し出された一枚一枚の写真、 心象風景の連なりとともに、都市空間へ向けて発せられます。
また、その学校の活動風景は記録・共有されます。
これは今後場所を変えながら継続的に続けられる幻の学校のはじまりです。
日時: エイプリル・フール 4月1日 (木) 20:00 – 22:00(19:45開場)
会場: 南洋堂書店1F(東京都千代田区神田神保町1丁目21)
参加: 参加費無料/メールにて事前予約の方には配布資料をご用意いたします
<absentschool@withassistant.net>
話者:
新津保建秀(写真家)
山岸剛(写真家)
中山英之(建築家/Hideyuki Nakayama Architecture)
松原慈(建築家/ASSISTANT)
有山宙(建築家/ASSISTANT)
戸田穣(建築史家)
企画:
unfold with assistant
協力:
Geoff Manaugh(ジャーナリスト/BLDGBLOG)
Nina Fischer & Maroan el Sani(アーティスト)
Brooklyn Digital Foundry(Digital Media Design Firm)
田村友一郎(アーティスト)
木戸昌史(Whatever Press)
古賀稔章(編集者/fold/unfold)
齋藤歩(編集者/M/M)
南洋堂書店
*FLAIR POOLはAPRIL FOOLのアナグラムです。
*後記:
写真家、建築家、建築史家が話者として参加したこの集まりを、トークイベントではなく勉強会という扱いにしたのは、すでにもっている知識や取り組みを数時間で交換するだけでなく、イベント前後の議論自体をを発展させることに焦点を当てたからである。事前に話したことと当日話すことは等価に扱うという前提のもと、個人的に国内外の建築家、ジャーナリスト、アーティストらと交わしたテーマに関連する会話はその一部を映像資料として上映し、各話者と事前に議論した内容は、この日の伏線として配布資料にまとめ、会の最後に聴衆に手渡した(編集=古賀稔章)。会の最中は、話者は聴衆と別の階におり、目の前に不在であったが、書店のガラスファサードに向けて、4つのスクリーン(話者の中継、2種類のスライドショー、ウェブカムでリアルタイムに閲覧される参考図書)を同時に投影し、上下階を移動するメッセージカードを使って話者と聴衆の遠隔対話を行なった。なお、本勉強会のストリーミングはされなかった。
松原慈(ASSISTANT)
Images
Photo © ASSISTANT

Photo © ASSISTANT

Photo © ASSISTANT

Photo © ASSISTANT

Photo © ASSISTANT

Photo © ASSISTANT

Photo © ASSISTANT

Photo © ASSISTANT

Photo © ASSISTANT

Photo © ASSISTANT

Photo © ASSISTANT
Linked Projects