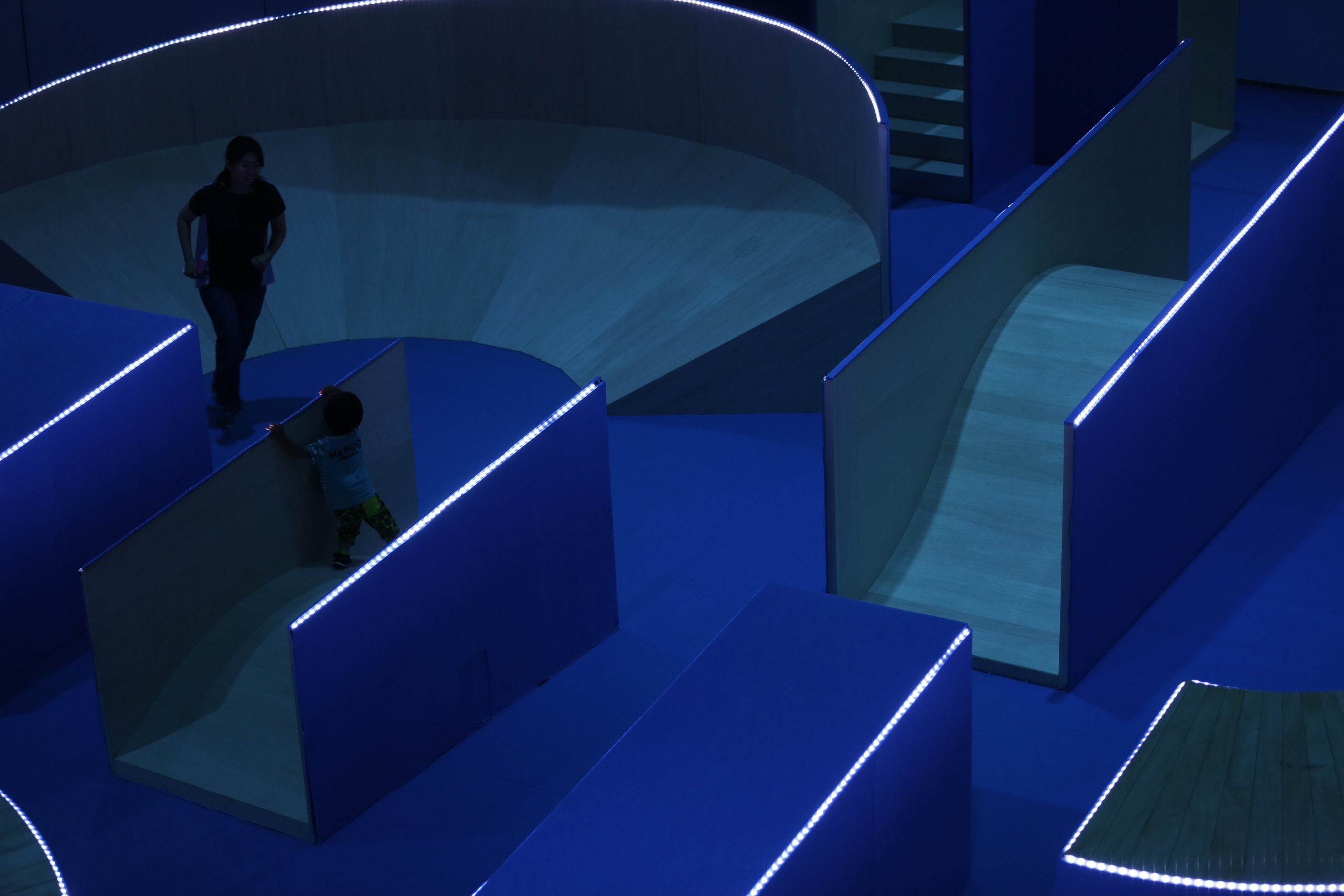 Data
Location

Yamaguchi Center for Arts and Media (YCAM), Yamaguchi, Japan

Team

Hiroi Ariyama

Completion year

2016

Exhibition period

18 June – 4 Sep, 2016

Purpose

Indoor play park equipped with media art

Floor area

600 sqm

Collaborators

Kiyoshi Suganuma (YCAM)
YCAM interlab

Photographers

Shintaro Yamanaka
Korogaru Garden is a landscape of our near future manifested as a children's park. Designed by Hiroi Ariyama of the Japanese architecture firm Assistant, the entire architecture seamlessly combines the physical space of play structures and the immaterial space of the forefront media technology in order to activate both bodily movement and brain activity at the same time.
Commissioned and produced by Yamaguchi Center for Arts and Media (YCAM), Korogaru Garden occupies its large exhibition room and the entrance hall of the art center. In the exhibition room, seventeen blue blocks, whose tops are each sliced at an angle in order to create a larger slope altogether at a distant view, offer various playable spaces inside, outside and between the blocks. Embedded in each block are multiple sensors, speakers and microphones, and the real- time projection on the wall within the same space respond to the signals caught by them. In the entrance hall, its main staircase is covered by a wide wooden slope sized 15 metres long and 3 metres tall. Children climb ladders located around the slope to get to the surface. Those ladders are installed of LED lights that interact with the camera capturing the children's movement sliding the slope.
Children can move freely between the two environments of different scales, both of which are designed to experience bodily movement activated by physical structures and brain activity driven by media technology harmoniously embedded within the same architecture.
Images
Photo © Shintaro Yamanaka

Photo © Shintaro Yamanaka

Photo © Shintaro Yamanaka

Photo © Shintaro Yamanaka

Photo © Shintaro Yamanaka

Photo © Shintaro Yamanaka

Photo © Shintaro Yamanaka

Photo © Shintaro Yamanaka

Photo © Shintaro Yamanaka

Photo © Shintaro Yamanaka

Photo © Shintaro Yamanaka

Photo © Shintaro Yamanaka

Photo © ASSISTANT

Photo © ASSISTANT

Photo © Shintaro Yamanaka

Photo © Shintaro Yamanaka

Photo © Shintaro Yamanaka

Photo © Shintaro Yamanaka

Photo © Shintaro Yamanaka

Photo © Shintaro Yamanaka

Photo © Shintaro Yamanaka

Photo © Shintaro Yamanaka

Photo © Shintaro Yamanaka

Photo © Shintaro Yamanaka
Audiovisuals
Linked Projects