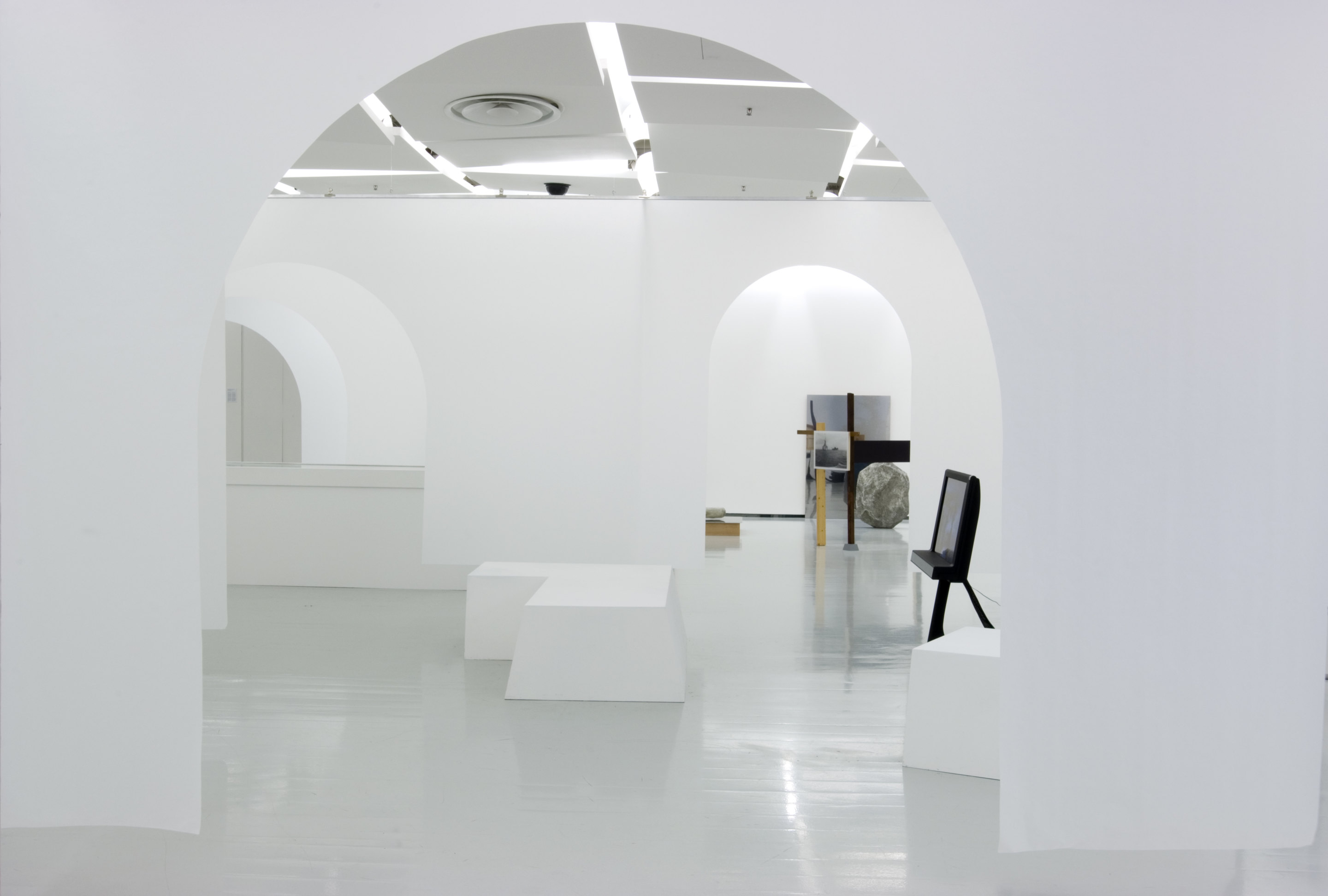 Data
Location

Galerie des Galeries, Paris, France

Team

Megumi Matsubara, Hiroi Ariyama

Completion year

2008

Exhibition title

mellow fever

Exhibition period

23 Apr – 14 Jun 2008

Commissioner

La Galerie des Galeries

Curator

Simon Castets

Purpose

Scenography

Floor area

295 sqm

Photographers

Marc Domage

Urls
"Translucent Passage" is an overall scenography created for the exhibition "Mellow Fever": an art exhibition that showed contemporary asian artists in a 360sqm gallery space inside Galeries Lafayette building.
The show was curated by an independent curator Simon Castets whose aim was to sensitively introduce Asian contemporary scene as much avoiding exoticism or Orientalism.
The scenography was made of layered hanging tracing paper to recreate street landscape that are quickly disappearing from Asian cities. The entrance of the gallery was also decorated by silver shscale-shaped stickers spreading from the street towards upstairs to the gallery invading all surfaces.
« In an environment reinterpreted by Japanese architectural duo (Megumi Matsubara, Hiroi Ariyama), Mellow Fever offers a selection of works by 10 artists originating from four corners of Asia. Constructed step by step, from Tokyo to Shanghai, Singapore to Seoul, the exhibition is the result of an empirical exploration guided by the desire to showcase a less conspicuous Asian art scene than the West is accustomed to.
While the media and market often favor a repetitive and univocal aesthetic, Mellow Fever refers instead to and autonomous, subtle creative exuberance. Far from an attempt to create a full panorama of contemporary Asian art, the exhibition sketches out an oblique approach, echoing harmonious discordances from a composite continent on the move. »
Above: Excerpt from exhibition press release
« Architect and designer Megumi Matsubara, one half of assistant, the Japanese studio that realized the architectural design of the exhibition, explains that the chaotic cacophony and aggressively dynamic image of Asia that is frequently said to be characteristic of large cities like Tokyo, Hong Kong, Beijing, or Seoul belong to a Western-manufactured anticipation of an imagined future—which Asian youth does not relate to—one often fantasized in sci-fi literature or appropriated from manga stories. The architectural intervention devised for Mellow Fever consists of a series of hanging rice paper panels in the shape of round-arched thresholds reminiscent of those found in Chinese hutongs and Tokyo's urban laneways. This physically translucent environment offers a discrete yet poignant interpretation of the exhibition: a landscape of temporality and a suspension of time where meaning is made available yet never obvious. In the introduction to the show, Simon Castets alludes to Barthes's "obtuse meaning": as Barthes himself explains, "obtuse meaning" is "theoretically locatable but not describable, it escapes the articulation of language, blurring the limit separating expression from disguise, it nonetheless allows an "elliptic emphasis, a complex and extremely artful disposition (for it involves a temporality of signification)." »
Above: Excerpt from 'Mellow Fever: Some notes on the rhetoric of the Asian image and the temporality of realism' by Beatrice Leanza first appeared on Yishu Journal, July 2008
Images
Photo © Marc Domage

Photo © Marc Domage

Photo © Marc Domage

Photo © Marc Domage

Photo © Marc Domage

Photo © Marc Domage

Photo © Marc Domage

Photo © Marc Domage

Photo © Marc Domage

Photo © Marc Domage

Photo © Marc Domage

Photo © Marc Domage

Photo © Marc Domage

Photo © Marc Domage

Photo © Marc Domage

Photo © Marc Domage

Photo © Marc Domage

Photo © Marc Domage

Photo © Marc Domage

Photo © Marc Domage

Photo © Marc Domage