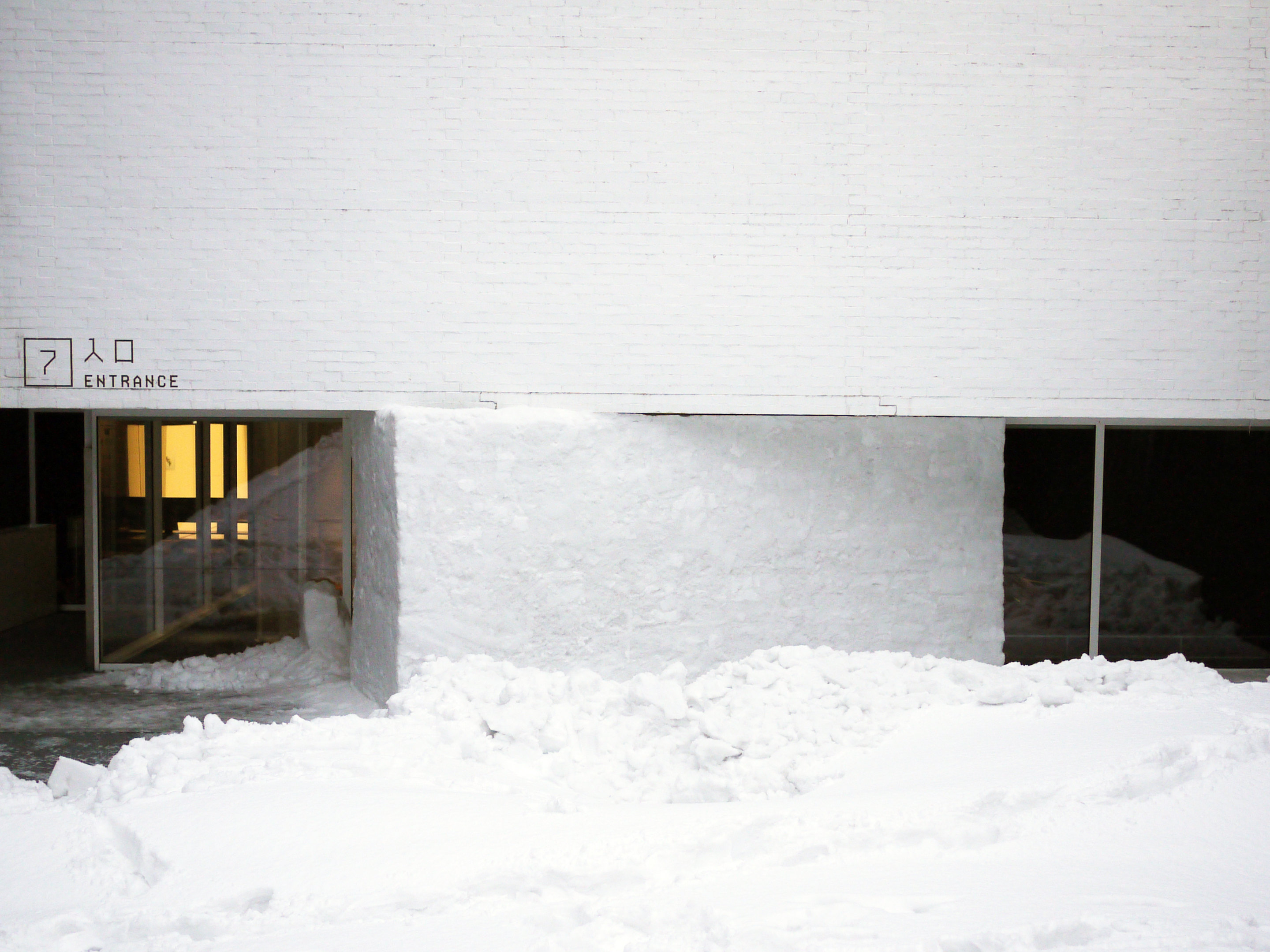 Data
Location

Aomori Museum of Art, Aomori, Japan

Team

Megumi Matsubara, Hiroi Ariyama

Completion year

2010

Exhibition title

LOVE LOVE SHOW

Exhibition period

12 Dec 2009 – 14 Feb 2010

Commissioner

Aomori Museum of Art

Purpose

Installation / Workshop

Floor area

50 sqm

Structure

Snowbrick, wood

Photographers

Motohiro Sunouchi, ASSISTANT

Acknowledgement

Coordinated by Shin Tsushima (Educator, Aomori Museum of Art)

Urls
An installation designed as a temporary library to showcase exhibition-related books, audios and videos.
Commissioned by Aomori Museum of Art at the occasion of their contemporary art group show. It also had to work beyond the framework of the show and the museum itself, directly interacting with the museum building designed by Japanese architect Jun Aoki.
We decided to locate the temporary architecture half inside the museum and half outside it separating the volume with a glass window in the middle. Half of the cube was built inside in December by wood frames and bubble wraps, while the other half was built in February with blocks made of snow. The coupled spaces facing to each other are separated as inside / outside while they can both be called inside, too. After the exhibition period, the space inside the museum was dismantled but the snow structure outside was kept for more than two months until it disappeared by itself after spring had come.
The project was conceived as an architecture that has neither clear beginning nor ending.
Images
Photo © ASSISTANT

Photo © ASSISTANT

Photo © ASSISTANT

Photo © ASSISTANT

Photo © ASSISTANT

Photo © ASSISTANT

Photo © Motohiro Sunouchi

Photo © Motohiro Sunouchi

Photo © Motohiro Sunouchi

Photo © ASSISTANT

Photo © Motohiro Sunouchi

Photo © Motohiro Sunouchi

Photo © ASSISTANT

Photo © ASSISTANT

Photo © ASSISTANT

Photo © ASSISTANT

Photo © ASSISTANT

Photo © ASSISTANT

Photo © ASSISTANT

Photo © ASSISTANT

Photo © ASSISTANT

Photo © ASSISTANT

Photo © Motohiro Sunouchi

Photo © Motohiro Sunouchi

Photo © Motohiro Sunouchi

Photo © Motohiro Sunouchi

Photo © Motohiro Sunouchi

Photo © Motohiro Sunouchi

Photo © Motohiro Sunouchi

Photo © Motohiro Sunouchi

Photo © Motohiro Sunouchi

Photo © Masatoshi Saiga

Photo © Masatoshi Saiga

Photo © Masatoshi Saiga

Photo © Masatoshi Saiga

Photo © Masatoshi Saiga

Photo © Masatoshi Saiga

Photo © Masatoshi Saiga

Photo © Masatoshi Saiga

Photo © Masatoshi Saiga

Photo © Masatoshi Saiga

Photo © Masatoshi Saiga

Photo © Masatoshi Saiga

Photo © Masatoshi Saiga

Photo © Masatoshi Saiga

Photo © Masatoshi Saiga

Photo © Masatoshi Saiga
Linked Projects