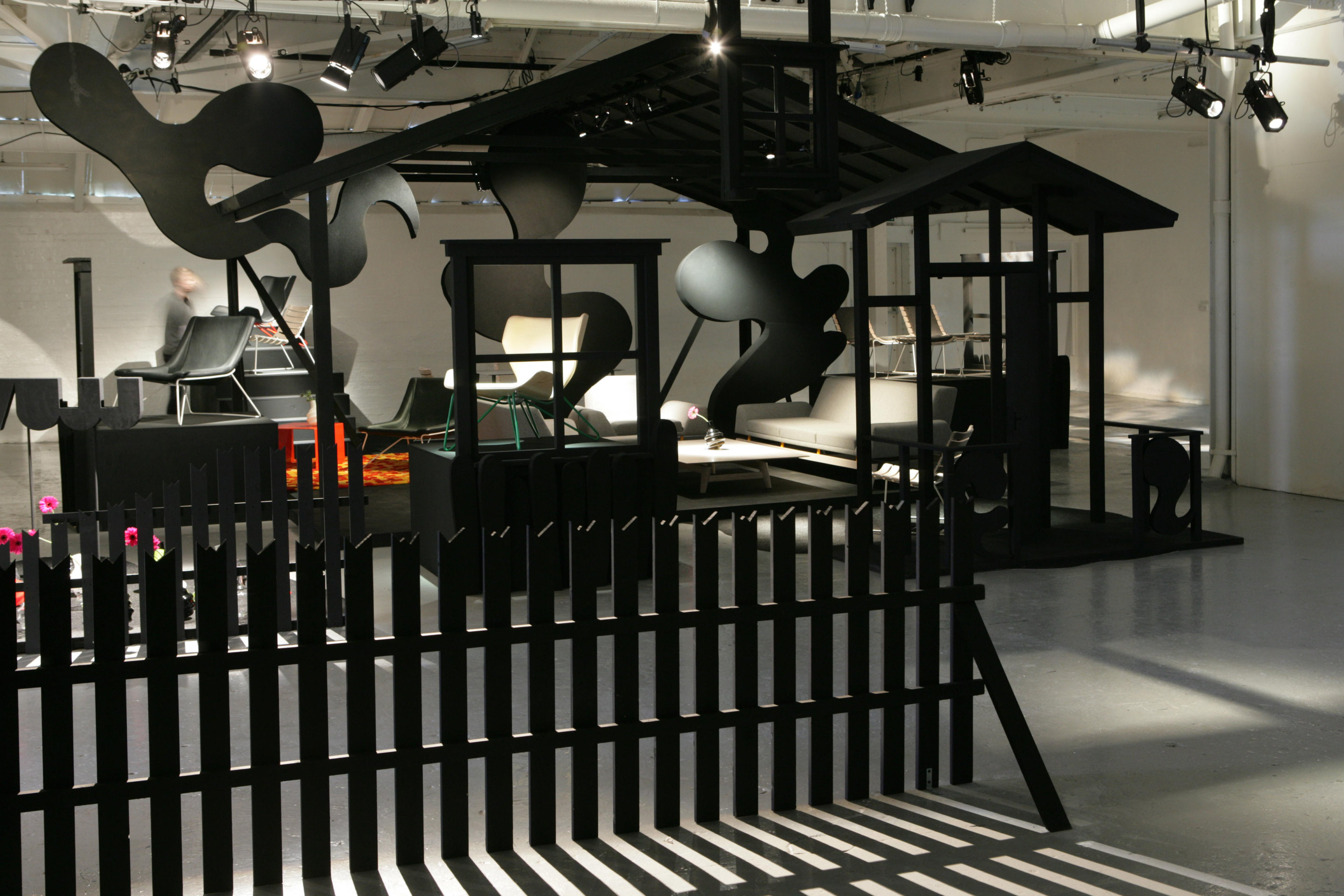 Data
Location

Covent Garden Film Studios, London, UK

Team

Megumi Matsubara, Hiroi Ariyama

Completion year

2006

Exhibition title

London Design Week


Client

Vujj

Purpose

Scenography for furniture line

Floor area

360 sqm

Collaborators

Photographers

Carlo Draisci

Acknowledgement

Michael Herbert for materialisation Jem White & Louise for lighting design

Notes

Now Vujj has relaunched itself as RVW.
Totoro House is an exhibition set designed to celebrate a launch of a Swedish furniture brand Vujj during London Design Week. The space captured a frozen moment when a traditional Swedish summer house turns into mysterious forest spirits.
The concept theme of the space comes from a forest creature Totoro.
Totoro is an imaginary spirit king that resides in a deep forest in the countryside Japan. The idea of this exhibition is to create a summer house structured by invisible forest spirits.
The exhibition space captures the very moment of an old Swedish summer house turning into forest spirits, the real nature of powerful and humourous fantasy. The house is split into elements and each element becomes a framed stage for a furniture product to be exhibited on. All house elements were carefully painted into theatre matt black and the lighting casted distorted shadows, extending the exhibition space outwards.
The furniture shined up as the only real objects in the whole fantasy space.
Images
Photo © Carlo Draisci

Photo © Carlo Draisci

Photo © Carlo Draisci

Photo © ASSISTANT

Photo © Carlo Draisci

Photo © Carlo Draisci

Photo © Carlo Draisci

Photo © Carlo Draisci

Photo © Carlo Draisci

Photo © Carlo Draisci

Photo © Carlo Draisci

Photo © Carlo Draisci

Photo © Carlo Draisci

Photo © Carlo Draisci

Photo © Carlo Draisci

Photo © Carlo Draisci

Photo © Carlo Draisci

Photo © Carlo Draisci

Photo © Carlo Draisci

Photo © Carlo Draisci

Photo © Carlo Draisci

Photo © Carlo Draisci
Linked Projects