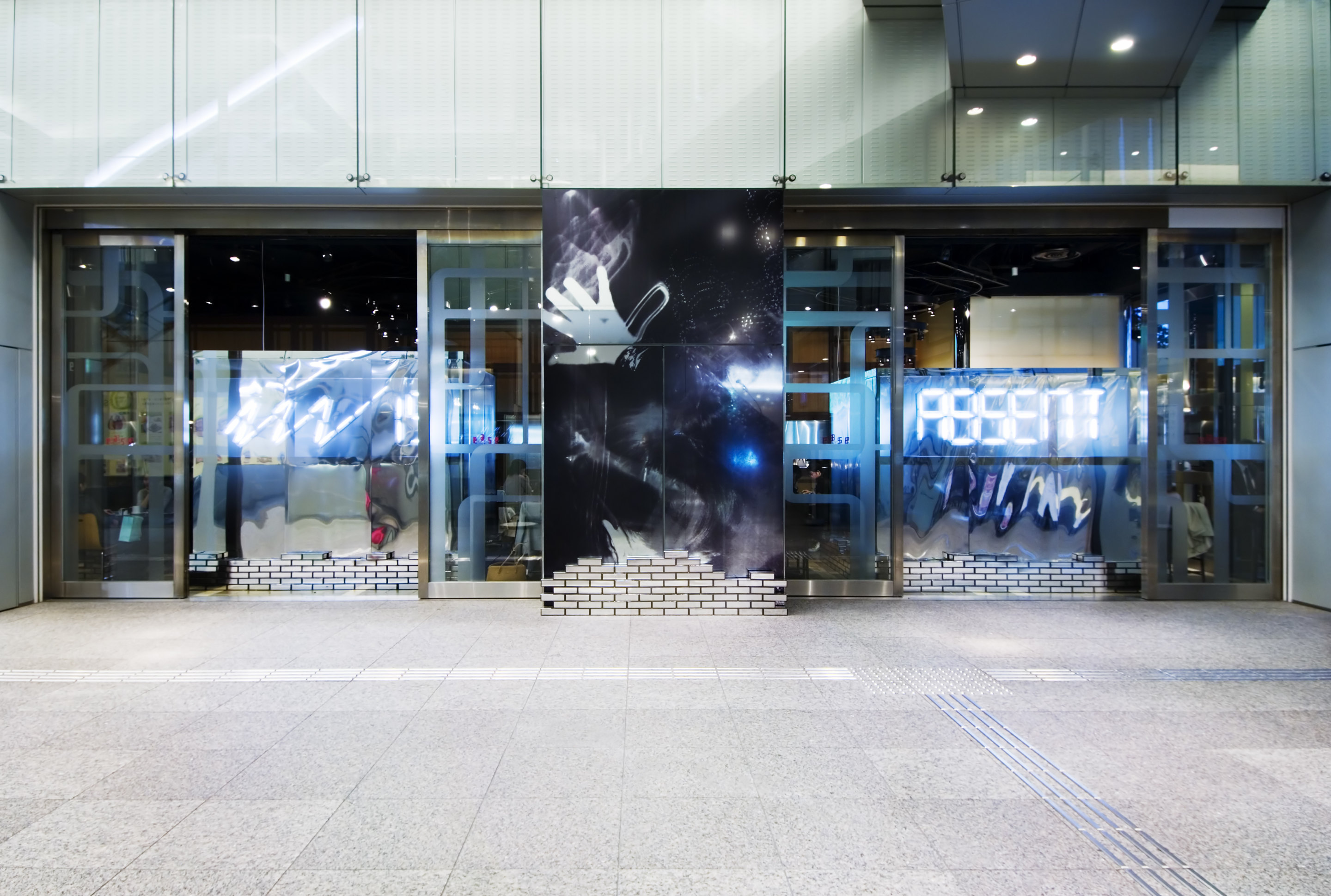 Data
Location

Marunouchi Bldg., Tokyo, Japan

Team

Megumi Matsubara, Hiroi Ariyama

Completion year

2008

Exhibition title

Marunouchi Artweeks

Client

Mitsubishi Jisho Property Management

Purpose

Installation

Floor area

400 sqm

Photographers

Martin Holtkamp, ASSISTANT
Public art installation in the cafe located in the Marunouchi Building's main lobby, commissioned by the building's owner Mitsubishi Jisho Property Management during Marunouchi Artweeks.
We metaphorically erased and made the cafe's exterior 'invisible' by wrapping it with an opaque reflective film. The cafe's facade normally covered with fashion brands' advertisements were substituted to a series of 'absent advertisement' made of images of her friends in one of any ordinary evenings taken by Megumi Matsubara then blown up to the size of advertisement banners.
The cafe's regular social transaction typified by people's conversation was also relocated and reactivated outside the cafe by Absent Symposium, an event co-held with the installation via 3000 postcards spread in the city and online form that called for participation.
The dialogue with the symposium's participants continued forever until it ended.
Images
Photo © Martin Holtkamp

Photo © Martin Holtkamp

Photo © Martin Holtkamp

Photo © Martin Holtkamp

Photo © Megumi Matsubara

Photo © Megumi Matsubara

Photo © Megumi Matsubara

Photo © Megumi Matsubara

Photo © Megumi Matsubara

Photo © ASSISTANT, Photo © Megumi Matsubara

Photo © ASSISTANT

Photo © ASSISTANT

Photo © ASSISTANT

© ASSISTANT

Photo © ASSISTANT

Photo © ASSISTANT

Photo © ASSISTANT

Photo © ASSISTANT

Photo © Martin Holtkamp

Photo © Martin Holtkamp

Photo © Martin Holtkamp

Photo © Martin Holtkamp

Photo © Martin Holtkamp

Photo © Martin Holtkamp

Photo © Martin Holtkamp

Photo © Martin Holtkamp

Photo © Martin Holtkamp

Photo © Martin Holtkamp

Photo © Martin Holtkamp

Photo © Martin Holtkamp

Photo © Martin Holtkamp

Photo © Martin Holtkamp

Photo © Martin Holtkamp
Linked Projects