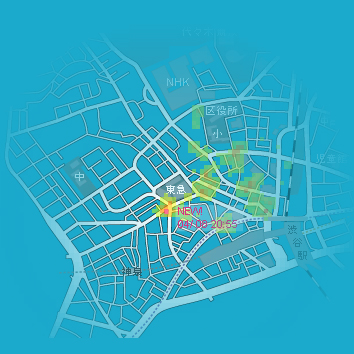 Data
Location

Tokyo, mobile and everywhere

Team

Megumi Matsubara, Motohiro Sunouchi, Hiroi Ariyama

Completion year

2003

Purpose

Application for GPS mobile phone, Urban research

Project period

Apr 2002 - Mar 2003

Collaborators

Manabu Tauchi, Tomoyuki Yamada

Acknowledgement

MITOH Program & Prof. Yoichi Muraoka (Waseda Univ.), Prof. Ken Sakamura (Tokyo Univ.), KDDI Corporation, Yasuo Homma, Kunio Hamaoka

Urls
Happy City is a psychological city map of Tokyo, created as an online platform for GPS- installed Internet-connectable mobile phones. The project was conceived as a graduation project of Megumi Matsubara while being a student at the University of Tokyo. For realisation of this project and its succession, Matsubara became a two-year winner of the MITOH Program: Exploratory Software Project run by IPA (a public agency that activates collaboration between government, industry and academia for the purpose of the development of IT human resources), which awarded her $70,000 per year for implementation of her ideas (2002-2004).
ABSTRACT:
We developed city-use applications to automatically create mobile communities using location information. We implemented two applications suitable for GPS-installed cellular phones: Happy City, Survival City.
Happy City enables the users to send out signals of their feelings about the places. Through analysis on the upcoming data from all users, it offers real-time psychological gradations of the city. Survival City is a mobile game in which players set their own virtual tents at any place in the city and keep them unattacked by others.
They gather feelings of the city in their own database. A field-based experiment with Happy City was performed with support of KDDI.
The platform behind Happy City and Survival City was developed into Creative Box by Motohiro Sunouchi in 2004; an online sketchbook for travelers, availing complex information gathered and automatically arranged on the move. In 2005, the series of projects ventured into a larger online platform development in collaboration with Unisys: information technology company initiated by Masatoshi Saiga (Unisys).
Linked Projects